Mobile Coolrooms & Freezers
Mobile Coolroom Hire
Mobile coolrooms keep your drinks cool and your food safe for your event. They can also be used for other cooling applications such as keeping flowers cool for florists or event planners.
Available in three sizes (including low profile for carparks and underground areas) for hire or purchase. Includes delivery, pickup and flexible hire options (long and short term).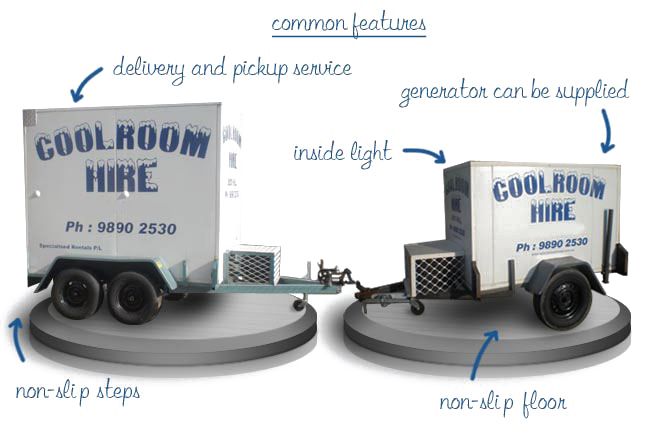 Coolroom Features
Fully adjustable shelves
Non-slip floor
Inside light
Generator can be supplied
Delivery and pickup service
Safety checked and tagged
Coolroom Applications
Birthdays and Celebrations
Promotional Events
Weddings & Engagements
Film & TV Shoots
Florist Cooling
Restaurants and Catering
School Fetes
Sporting Events
Music Festivals
Hospitals and Nursing Homes
Coolroom Sizes
'Stubby' Coolroom
6 x 4 x 4 FT Low Profile Coolroom
'Walk-in' Low Profile Coolroom
6 x 4 x 6 FT Low Profile Coolroom
'Walk-in' High Profile Coolroom
6 x 4 x 7 FT Low Profile Coolroom
Medium Coolroom
7 x 5 x 7 FT MEDIUM Profile Coolroom
Large Coolroom
9 x 5 x 7 FT HIGH Profile Coolroom
Mobile Freezer Hire
Mobile freezers keep your produce safe and fresh for your event. Great for frozen foods, frozen meats and ice-cream!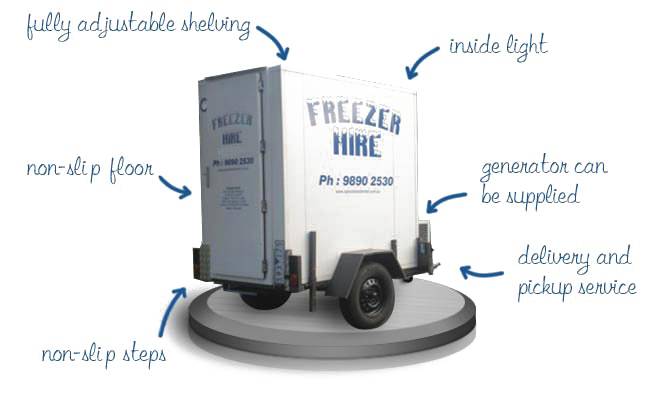 Freezer Features
Fully adjustable shelves
Non-slip floor
Inside light
Generator can be supplied
Delivery and pickup service
Safety checked and tagged
Freezer Sizes
6 x 4 FT HIGH Profile Freezer